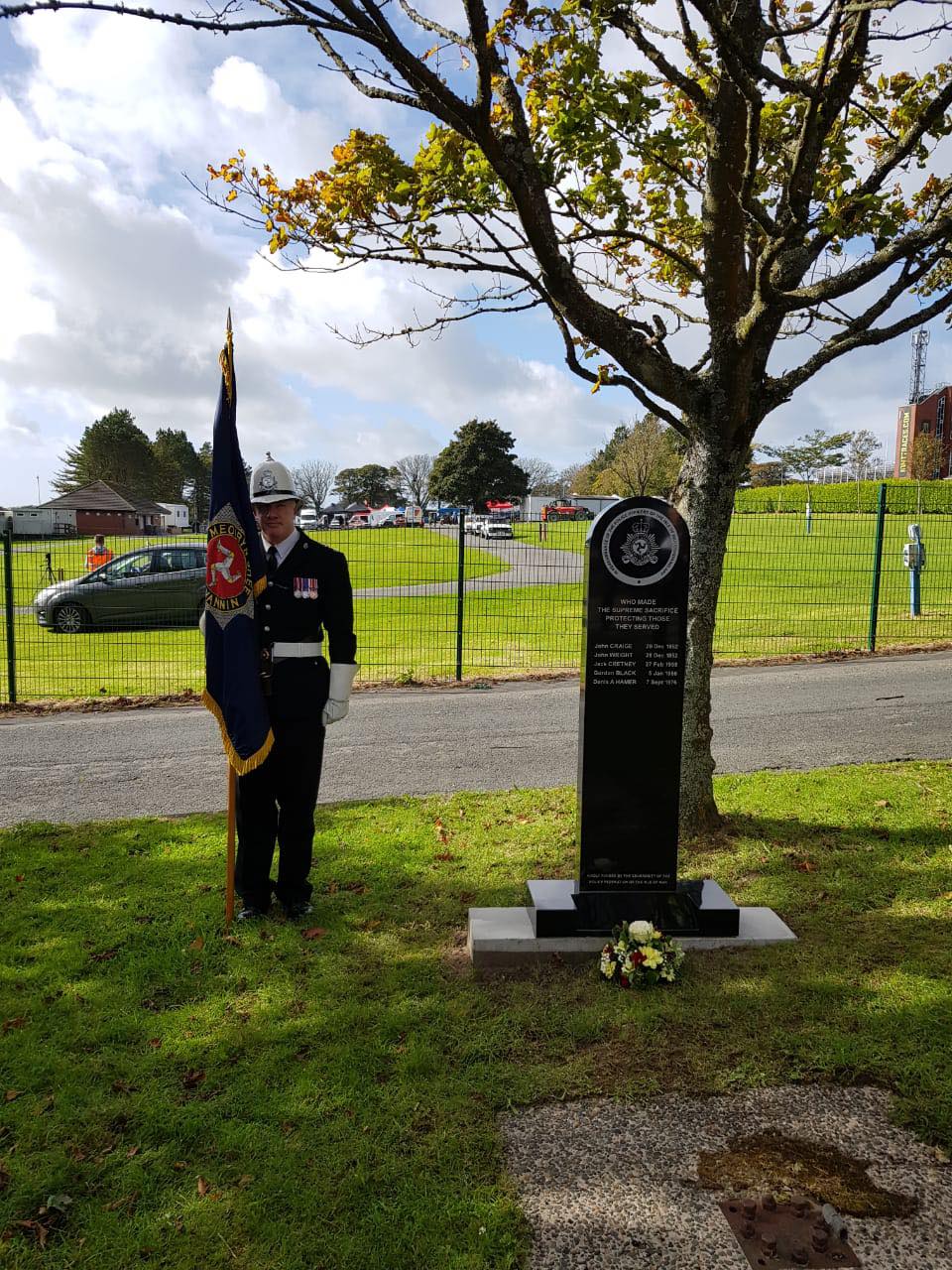 Memorial to fallen officers unveiled at Police Headquarters
A fresh, sunny midday on Saturday the 1st of October 2022 saw the unveiling of the memorial outside of Police Headquarters to fallen officers who had served with the Isle of Man Constabulary.
The memorial funded by The Police Federation of the Isle of Man with a contribution to the overall cost from the Isle of Man branch of the National Association of Retired Police Officers (NARPO) recognises the sacrifices of the five Police officers who died in the line of duty on the Isle of Man,
Chief Constable John Craige
Constable John Wright
Sgt John 'Jack' Cretney
Constable Gordon Black
Constable Denis Hamer.
The ceremony opened by the Chief Constable Gary Roberts to the many family members, former colleagues, members of Tynwald and currently serving officers in attendance was followed by a biography of each officer read by the Chief Constable.
"Remember Me", a poem by Margaret Mead was read by Mr Roberts before the Force Chaplin the Reverend Jo Dudley recited the Lords prayer which was followed by The Minister for Home Affairs, Mrs Poole-Wilson MHK reading Ecclesiastes 3:1
To everything there is a season.
A time for everything under the sun.
A time to be born, and a time to die
A time to weep and a time to laugh
His Excellency the Lieutenant Governor Lieutenant General Sir John Lorimer KCB, DSO, MBE then unveiled the memorial with the words,
"This is the time to remember. With sadness and with pride.
We remember those who not only served, but gave their all.
They are our heroes and our role models.
The world is a poorer place without them, and we stand in gratitude for their
example of decency and courage.
We remember them, with sadness and with pride".
Proceedings where then brought to a close following the Manx Nation Anthem and the closing address by The Chief Constable.